No Dog Left Behind: Plan of Action to Address Drug Shortages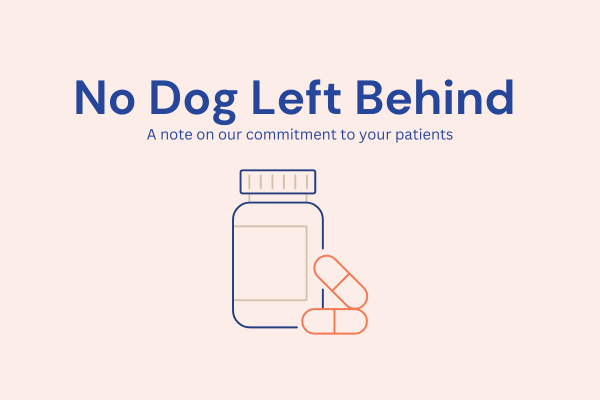 As you are likely aware, global supply chain issues are causing shortages of crucial raw drug ingredients needed to produce targeted therapy medications. These shortages are having a significant impact on the veterinary compounding pharmacy industry, and we know that you, your patients and pet parents are feeling the effects.

We want you to know that the FidoCure® team shares your sense of urgency and we are working hard to ensure that no dog is left without the cancer treatments it needs.

Providing access to life-saving therapies is one of our core values, and we are committed to putting you and your patients first.
Here are just a few of the steps we are taking to mitigate the effects of these supply chain issues:
We have partnered with three new veterinary compounding pharmacies and continue to explore additional partnerships to gain access to supply.
We are taking on additional costs to ensure that we locate medications for our patients, and we will not pass those additional costs on to our customers.
We are actively monitoring ingredient stock levels to anticipate shortages and explore workarounds before they happen.
We are facilitating prescription transfers and providing ordering support during any transition.
We are working closely with individual clinics to find solutions on a case-by-case basis, wherever possible.

We understand that a cancer diagnosis for a beloved pet can be devastating, and the inability to access the necessary treatments due to supply chain shortages only adds to the feeling of helplessness.
We are fully committed to providing the best possible care for your patients and helping you through this difficult time. Thank you for your dedication to your patients, and please know that we are here to support you in any way we can.