Precision Medicine Tools Offer Veterinarians New Hope for Understanding Hemangiosarcoma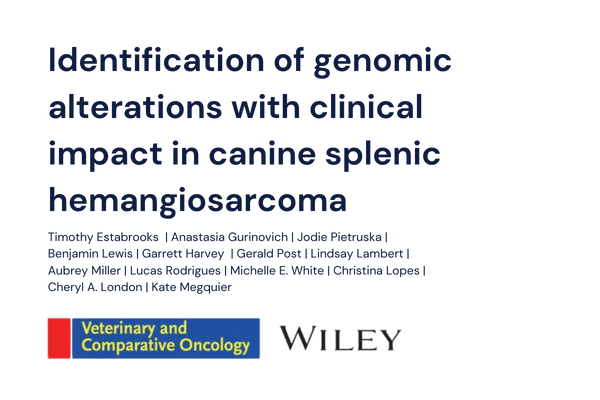 FOR IMMEDIATE RELEASE
Precision Medicine Tools Offer Veterinarians New Hope for Understanding Deadly Dog
Cancer
A study from researchers at Cummings School of Veterinary Medicine at Tufts University, Broad
Institute of MIT and Harvard, and FidoCure by One Health Company demonstrated the potential
for a commercially available precision pet health platform to illuminate the complex landscape
between genetics and disease outcomes for a common and aggressive cancer that affects
millions of dogs.

PALO ALTO, CA (September 25, 2023) — Hemangiosarcoma (HSA) is a common and
aggressive canine cancer that typically targets the heart and spleen. It is the largest unmet
medical need for 3 of the top 4 breeds in the US: Golden Retrievers, German Shepherds, and
Labrador Retrievers Although HSA occurs in all dog breeds, this cancer will claim the lives of
millions of dogs from these three breeds alone.

An HSA diagnosis is devastating for dog owners. Although treating HSA is possible, the
diagnosis is often perceived as a death sentence and puts veterinarians in the unenviable
position of helping pet parents navigate a distressing decision: pursue treatment despite the
typically dismal odds of survival or euthanize their pet to save them from an unpredictable and
sudden death. But today, researchers at Cummings School of Veterinary Medicine at Tufts
University, Broad Institute of MIT and Harvard, and FidoCure by One Health Company have
shown that precision medicine techniques can illuminate the complex relationship between
patient genetics and disease outcome.

"Our research shows that not all hemangiosarcomas are made equal," said Cheryl London, the
Associate Dean for Research and Graduate Education at Cummings School and a co-lead
author on the paper. "This study shows how genomic sequencing of hemangiosarcomas can
provide data to help veterinarians better understand prognosis for an HSA patient and help pet
parents make better informed life-and-death decisions for their dogs," adds London, who is also
a veterinary advisor to One Health.

The study, published in Veterinary and Comparative Oncology, suggests that clinical variables
such as age at diagnosis, size, and overall survival were in some cases linked to patient
genetics or tumor mutations. By analyzing DNA from canine patients, FidoCure could someday
help veterinarians move beyond one-size-fits-all HSA care plans to treatments that are tailored
to each individual dog.

The new study analyzed clinical data and DNA collected from the tumors of 109 dogs with HSA
and found breed-specific disparities in age at HSA diagnosis, with German Shepherds affected
at a younger age than Golden Retrievers or Labrador Retrievers. Although not reaching
statistical significance, German Shepherds also tended to fare worse than Golden Retrievers,
which in turn did worse than Labradors. But one of the most important predictive factors for a
patient's survival was hidden in their DNA. The researchers identified two genetic variants that
are associated with worse outcomes as well as the genetic mutations that are most common in
HSA tumors.

Together with clinical factors, this genetic and breed data could potentially help inform treatment
decisions. In general, studying tumor DNA may also open up the possibility of treating dogs
with precision cancer drugs, which is only possible if veterinarians have access to genetic data
from the dog's cancer. If the pet owner does decide to pursue treatment, veterinarians can
access the world's largest canine cancer database through FidoCure to match HSA patients
with cutting-edge treatments that may meaningfully extend their life.

"Our findings give veterinarians and pet parents accessible options by applying techniques used
for precision medicine in humans to our canine companions," said Christina Lopes, the CEO of
FidoCure by One Health Company and co-author of the paper. "Every dog is unique and so is
every cancer. Pet parents and veterinarians shouldn't have to decide between premature
euthanasia and expensive, potentially ineffective treatments based on a one-size-fits-all
understanding of this disease. By looking at a pet patient's DNA we can better understand their
unique situation and potentially make decisions based on that data. Even better, what we learn
in dogs with hemangiosarcoma can impact both sides of the leash: human angiosarcoma is very
similar to canine hemangiosarcoma and every bit as much of an unmet medical need."

###
About FidoCure
FidoCure is the first to bring the latest advances in human oncology - individualized, precision
medicine - to dogs with cancer. We are a mission driven company that delivers the most
sophisticated diagnostics and creates a tailored treatment plan for each dog. Our flagship
product, FidoCure® Next Generation DNA Sequencing Test, leverages technologies and
therapies approved for human use, with additional data specific to canine cancer. With
FidoCure, dogs with cancer receive access to the latest scientific advances in cancer care, from
tests to treatment. FidoCure is backed by premier biotech investors including Polaris Ventures,
A16Z, and YCombinator. Learn more at www.fidocure.com.

Contact
Daniel Oberhaus
Haus Biographics for One Health Company
fidocure@hausb.io