Ardent and FidoCure Announce Groundbreaking Partnership

FidoCure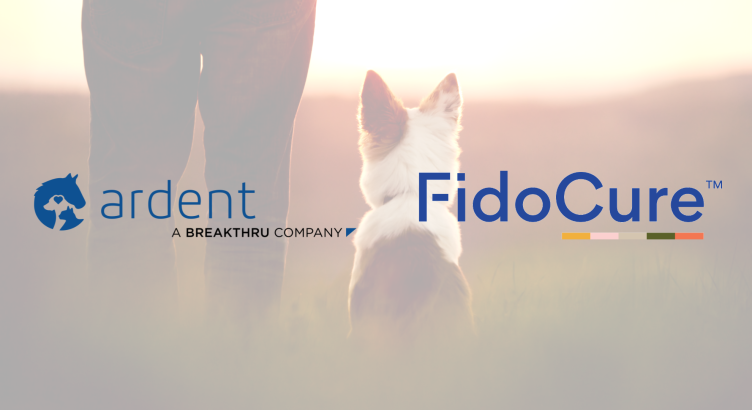 FOR IMMEDIATE RELEASE
Ardent and FidoCure Announce Groundbreaking Partnership to Increase Access to Precision Medicine Treatments for Pet Cancer.
Lexington, KY and San Francisco, CA – July 18, 2023 – Ardent, a global leader in advanced treatments for pets, and FidoCure, a company transforming canine cancer treatment with precision medicine, are thrilled to announce a transformative partnership that will expand access to oncology innovation in the animal health market.
This collaboration combines efforts to increase access to Ardent's innovative cancer treatment pipeline with FidoCure's genomic testing and precision medicine platform. This partnership leverages the unique strengths of each company to accelerate scientific advancements, increase veterinary access to modern precision medicine, and foster innovation in the global pet oncology market.
"Our shared vision is to raise the standard of care for pets stricken with cancer," said Thomas Masterson, President of Ardent. "FidoCure's expertise in genomic testing and robust data coupled with Ardent's cancer product pipeline will create more choices for more pet families. We now know there is no single solution to completely eradicate cancer, it's not a one size fits all approach. Our vision is that through partnerships, we are more likely to accelerate innovation and improve the lives of pets and people."
"We are delighted to partner with Ardent and their large network of veterinarians in North America to facilitate access to precision treatments for canine cancer," said Christina K. Lopes, CEO, FidoCure. "This collaboration means that more pet families will be able to access our state-of-the-art genetic testing platform and make informed choices about the best course of treatment for their canine companions."
As part of this collaboration, Ardent will add the FidoCure genomic testing platform to its Ardent Path program. This program offers veterinarians and pet families a 72-hour cancer pathology diagnosis with the option to treat the pet's cancer with targeted cancer vaccines such as K9-ACV, a customized immunotherapy for solid canine cancers. Once a patient sample is submitted to Ardent's laboratory, the cancer type is diagnosed and a customized vaccine is prepared for the patients. Now veterinarians can also choose to offer targeted therapies based on the genetic mutation of the pet's cancer via FidoCure's platform. This multimodal cancer treatment approach is designed to enhance treatment outcomes just like human oncology care at affordable costs for veterinarians and pet families.
Ardent's network of thousands of veterinarians across North America will have preferred access to the FidoCure platform to offer genomic testing and genetically targeted cancer therapies. Both organizations intend to expand advanced cancer care to a larger network of specialty and general practice veterinarian clinics to provide pet families with more treatment options following a cancer diagnosis.
About Ardent Animal Health
Ardent Animal Health is a veterinary biotechnology company based in Lexington, KY. Founded in 2016, Ardent's mission is to improve the lives of pets and people. Ardent's pipeline includes novel cancer and regenerative medicine treatments for veterinary patients suffering from cancer and other inflammatory diseases. Ardent is a synonym for passionate, fiery, and committed which manifests through Ardent's worldwide referral network providing advanced care for complicated diseases.
https://ardentanimalhealth.com/
About FidoCure by the One Health Company
The One Health Company is the first to bring the latest advances in individualized precision medicine to canine cancer patients with its FidoCure® Next Generation DNA Sequencing Test. The FidoCure platform creates tailored treatment plans for canine cancer patients by applying sophisticated diagnostics and treatments approved for human use. FidoCure has ushered in the era of precision veterinary oncology by assembling the world's largest canine cancer genomics database, which is used to ensure that pet dogs have access to the latest advances in cancer care. The One Health Company is backed by premier biotech investors including Polaris Ventures, A16Z, and YCombinator. Learn more at www.fidocure.com.
Media Contact:
Ardent: info@ardentanimalhealth.com
FidoCure: onehealth@hausb.io