Lung Carcinoma Case Study: Adley Hurwitz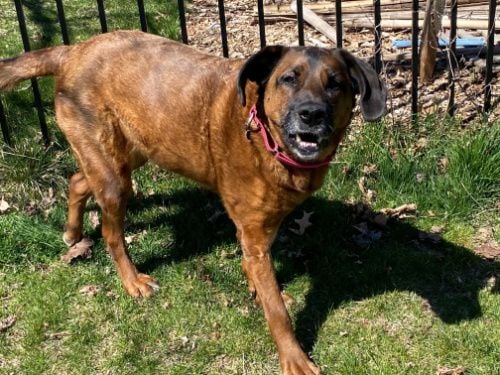 After six months of FidoCure® enabled therapy, Adley showed no evidence of pulmonary mass recurrence.
In January 2020, Adley Hurwitz, a 6.5-year-old female spayed Rhodesian Ridgeback mix, was presented to her primary veterinarian due to a progressive cough occurring over a period of approximately one and a half months. During a physical exam, two nodules were identified in the right cranial abdominal mammary gland. Fine needle aspiration of the mammary nodules and chest radiographs were performed. Cytology evaluation of the nodules confirmed presence of mammary and inflammatory cells.

On pulmonary radiographs, a solitary lung mass was identified, suggesting a diagnosis of mammary tumor metastasis or a concomitant primary lung tumor. To better characterize the lung mass and its possible spread, a full body CT scan was performed on January 30, 2020. The scan confirmed the presence of a single pulmonary lung nodule with no apparent lymph node involvement.

On February 4, 2020, a right cranial lung lobectomy was performed, and a 60mm lung mass was completely excised. Histopathologic evaluation revealed a grade I pulmonary carcinoma removed with marginal excision. Another surgical intervention was performed to remove the two mammary nodules on March 10, 2020, which included a multilobulated mammary gland nodule (15 mm) and one soft subcutaneous nodule (10 mm) adjacent to it.

Both nodules were completely excised. Histopathology revealed epithelial cells forming tubulopapillary sheets associated with myoepithelial proliferation. A mitotic index of 10 in 10 high-power fields was characterized. Results were consistent with a complex mammary carcinoma mixed type, and a ductal hyperplasia. Following both surgeries, no adjuvant treatment was elected.

During Adley's three month re-staging, a new lesion was suspected in the right middle lung lobe via thoracic radiographs. A chest CT scan was performed and although there was no evidence of regrowth from the primary lung tumor, the CT scan revealed a right caudal pulmonary mass, which was likely a secondary or metastatic lesion. At this time Adley showed an enlarged lymph node, suggesting lymphatic tumor spread from the primary pulmonary carcinoma that was previously removed.

At this point, treatment options for Adley were discussed including systemic therapy. After consideration of all treatment options, Adley's family elected to enroll in the FidoCure® Precision Medicine Platform.