Case Study: Malignant Oral Melanoma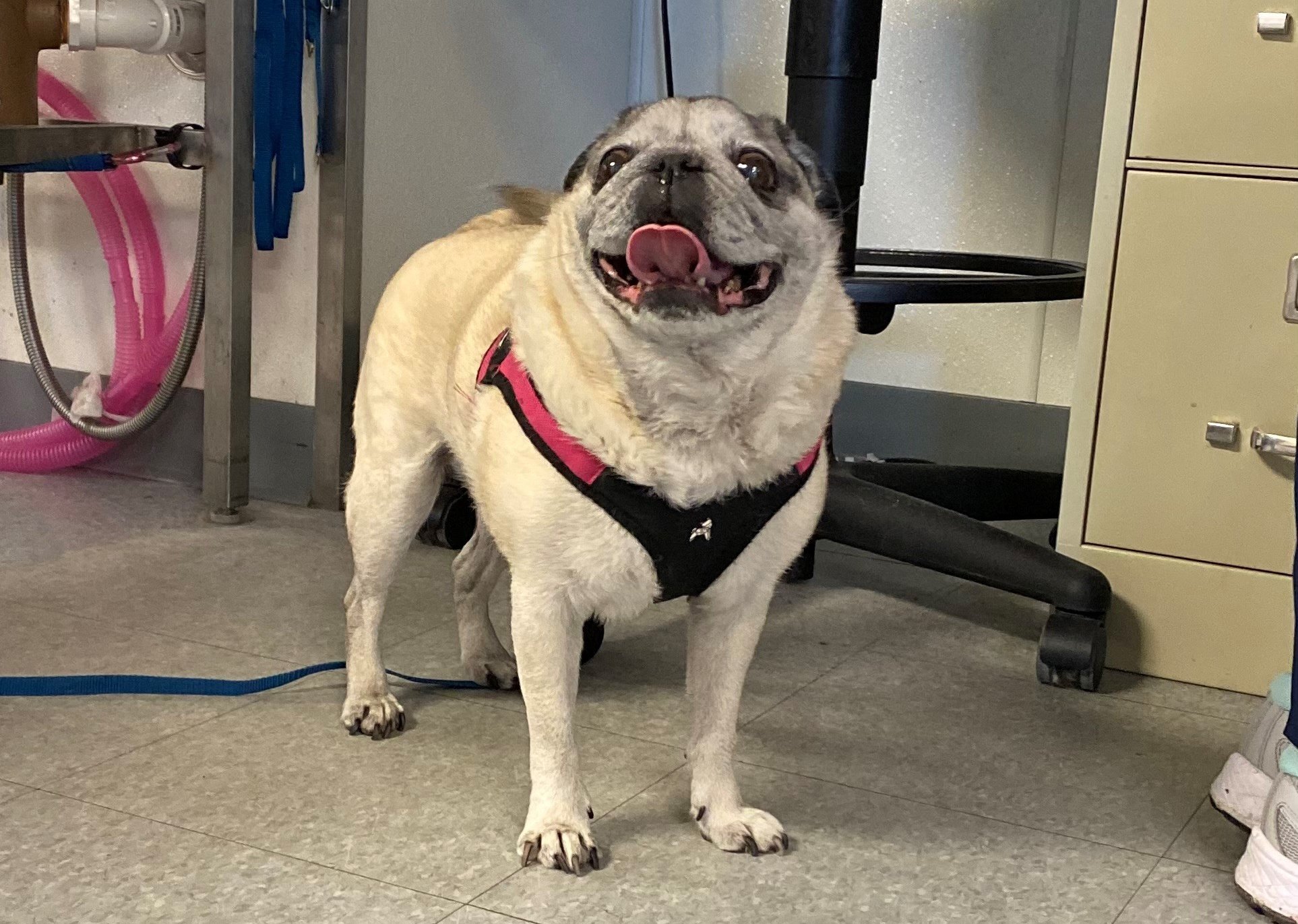 History and Treatment Planning
Maggie, a friendly and rambunctious 12 year old, spayed female pug, was diagnosed with malignant oral melanoma in March 2022 by her primary care veterinarian. The mass was located on her upper left dental arcade. Her veterinarian surgically debulked approximately 80% of the mass. Unfortunately, Maggie experienced rapid local recurrence within a month of the surgery, involving the maxilla, and the adjacent mandibular lymph node.
Due to the aggressive nature of the mass, Maggie's care was transferred to an oncologist in May 2022. Initial diagnostics included computed tomography of her head and thorax to determine the extent of the mass, and to look for pulmonary metastasis. Surgical removal/debulking is typically the preferred/recommended first line approach for oral melanoma cases. Conventional chemotherapy historically has a generally poor response rate for oral melanomas. In Maggie's case, palliative/coarse fractionated radiation was a poor option because Maggie's mass was very extensive.
Maggie underwent a partial maxillectomy in June, 2022, along with left mandibular lymph node excision. Immunotherapy with the Oncept melanoma vaccine was completed in July 2022. Maggie was enrolled in FidoCure DNA Sequencing and her oncology team received her final report on July 28, 2022.
Precision Medicine Results and Treatment
Sequencing revealed five mutations: ATM, BRCA1(2), PTEN(2), with four of the mutations indicating potential therapeutic approaches.
Gene: ATM Mutation: p.Met1910Ile Potential Therapy: Olaparib - 3 mg/kg/day PO
ATM is a serine/threonine-protein kinase that is recruited and activated by DNA double strand breaks and functions upstream of DNA repair. Activated ATM can phosphorylate hundreds of substrates to initiate and amplify the DNA damage response, resulting in DNA repair, cell cycle arrest, and/or apoptosis (Zhang et al., 2012).
Germline loss-of-function mutations in ATM have been identified in Ataxia telangiectasia disorder. Patients with Ataxia telangiectasia are predisposed to a wide variety of cancers, such as childhood lymphomas, leukemia, and breast cancer. Mutations in ATM are also found at a low level in many human cancers. Most are malignancies of lymphoid/hematopoietic origin (Choi et al., 2016; Reiman et al., 2011)
ATM oncogenic mutations in cancer cells increase the sensitivity to DNA damaging agents due to deficits in DNA repair pathways. Early trials in humans show that bladder carcinoma, stomach carcinoma, colorectal carcinoma and others can be treated with platinum based chemotherapy, olaparib (PARP inhibitor), ATR inhibitor, and/or PD-PDL1 inhibitor (cancergenomeinterpreter.org). The histone deacetylase complex (HDAC) inhibitor, vorinostat, induces reactive oxygen species and DNA damage. With defective activation of DNA-repair mechanisms, ATM mutant cells may be particularly susceptible to vorinostat-induced DNA damage and cell death (Smith et al., 2014).
Gene: BRCA1 Mutation: p.Arg443Ser Potential Therapy: Olaparib - 3 mg/kg/day PO, traditional chemotherapy
This mutation has previously been identified as a single nucleotide polymorphism (SNP). SNPs are the most common form of genetic variation within the genome of most mammals, including dogs. SNPs normally occur at many locations throughout an individual dog's DNA and are typically part of that dog's inherited genetic blueprint. SNPs have been identified as playing many roles in individual variability, including breed, coat color, snout length, sensitivity to therapies, and disease predisposition, but most have no direct effect on an individual's overall development or wellbeing.
The overall occurrence of this SNP is a minor allele frequency of 0.024 in the canine population (CanFam4.1). This mutation in BRCA1 has been identified in healthy dogs but its specific role/function is not yet known. In humans, there are inherited variations in the BRCA1 gene which predispose the individual to certain malignancies.
In humans, olaparib is FDA approved to treat patients with deleterious or suspected deleterious germline BRCA-mutations. Olaparib is a poly (ADP-ribose) polymerase inhibitor (PARP (https://www.fda.gov/drugs/resources-information-approved-drugs). The confirmed benefit of olaparib was seen in patients with metastatic breast cancer harboring BRCA1/2 mutations (OR 50%) (Tung et al., 2020).
Gene: PTEN Mutation: p.Leu194fs AND PTEN Mutation: p.Gln399* Potential Therapy: Rapamycin (Sirolimus) - 0.1 mg/kg/day PO
PTEN or phosphatase and tensin homolog is a tumor suppressor frequently altered in numerous human cancers. Alterations in PTEN have also been identified in canine malignancies. The normal function of PTEN is negative regulation of the AKT/PI3K/mTOR controlling a plethora of cellular processes, including survival, proliferation, energy metabolism and cellular architecture (Song et al., 2012; Cantley, 2002). Impairment of PTEN function through multiple mechanisms, including nonsynonymous mutations, results in PIP3 accumulation and constitutive activation of catabolic downstream AKT/mTOR signaling.
Loss of PTEN activity leads to genomic instability and provides a setting for the accumulation of other deleterious mutations. PTEN is frequently mutated in many types of human cancers (Sansal, Sellers, 2004). In dogs, PTEN mutation was identified in 25% of peripheral T cell lymphoma (Avery, 2020; McDonald et al., 2018), and in lower frequency in osteosarcoma and mammary tumor (Wang et al., 2017; Borge et al., 2015).
The specific mutation Q399* has not been previously described in humans or dogs. Targeting these mutations is under ongoing investigation, though mTOR inhibitors have been utilized to decrease the effect of this alteration as a driver of canine cancer.
In August 2022, progressive local disease with lymph node involvement was found during a sedated physical exam. The family reported a decrease in Maggie's interest in eating her treats. Additionally, a solitary pulmonary nodule, presumed to be metastatic melanoma, was found on thoracic radiographs. Maggie's oncologist prescribed Olaparib at a dose of 3mg/kg given once daily. A concern for poor prognosis was noted due to the rapid recurrence, indicating an especially aggressive disease process.
Maggie began to deteriorate and was anorexic, seemingly feeling poorly. Her family considered euthanizing her due to quality of life concerns. In an attempt to make medication administration easier, her oncologist switched her from Olaparib in capsule form to suspension, and added an analgesic mouthwash to her regimen. A few short weeks later, she had reportedly rallied and was showing improvement.
At her office visit in September 2022, her family reported she was doing very well at home and had experienced a significant improvement in her appetite. Since starting Olaparib, there was improvement in the lymph node involvement, and a subjective decrease in mass size, though she was not sedated for oral exam at this visit. Her oncologist prescribed Rapamycin (0.1mg/kg) to be given concomitantly with the Olaparib.
Her physical exam in November 2022 brought even greater hope. She continued to do well at home, eating and drinking well with no vomiting or diarrhea. She was sedated for an oral exam, and the oncologist reported that the mass/defect in her caudal maxilla/palate had completely resolved - there was no visible cancer present in her mouth. Additionally, thoracic radiographs showed resolution of the previously identified pulmonary metastatic nodule.
She continued to do very well through December 2022, and at her restaging exam on January 22, 2023, her oncologist reported that she looked great and that "She is bright and sassy and comes in like she owns the place." Her exam was within normal limits and there were no obvious signs of an oral mass (though it was not a sedated exam). Her family again reported that she was doing well at home. In February 2023, her oncologist reported to FidoCure: "Maggie has been the most dramatic responder. She had rapid recurrence of her caudal maxillary mass post surgery and was also receiving the Oncept vaccine. Her disease was getting so bad that they were having problems administering medications and the clients were one day away from euthanizing her. As a last resort, I switched her to the compounded suspension of Olaparib and based upon recent examination, (Maggie) is still in a complete remission in the primary disease site as well as chest x-rays. I don't have great pre-treatment photos as she is very much of a moving target."
In March 2023, Maggie's family reported that she was having issues with her mouth, was tentative about eating, had decreased energy, and had recently developed halitosis. On oral exam, a recurrent/progressive tumor measuring 1.5cm was discovered, more cranially located than her previous mass. Palliative/coarse fractionated radiation was mentioned as a possible consideration, as was switching her to Toceranib, which was the elected course of treatment.
Sadly, Maggie lost her 13-month battle with melanoma on April 11, 2023.
References
Choi M, Kipps T, Kurzrock R. ATM Mutations in Cancer: Therapeutic Implications. Mol Cancer Ther. 2016 Aug;15(8):1781-91.
Reiman A, Srinivasan V, Barone G, Last J, Wootton JL, Davies EG, Verhagen MM, Willemsen MA, et al. Lymphoid Tumours and Breast Cancer in Ataxia Telangiectasia; Substantial Protective Effect of Residual ATM Kinase Activity Against Childhood Tumours. Br J Cancer. 2011 Aug 9;105(4):586-91.
Smith S, Fox J, Mejia M, Ruangpradit W, Saberi A, Kim S, Choi Y, Oh S, Wang Y, Choi K, Li L, Hendrickson EA, Takeda S, Muller M, Myung K. Histone deacetylase inhibitors selectively target homology dependent DNA repair defective cells and elevate non-homologous endjoining activity. PLoS One. 2014 Jan 23;9(1):e87203.
Zhang T, Penicud K, Bruhn C, Loizou JI, Kanu N, Wang ZQ, Behrens A. Competition Between NBS1 and ATMIN Controls ATM Signaling Pathway Choice. Cell Rep. 2012 Dec 27;2(6):1498-504.
Avery AC. The Genetic and Molecular Basis for Canine Models of Human Leukemia and Lymphoma. Front Oncol. 2020 Jan 24;10:23.
Borge KS, Nord S, Van Loo P, Lingjærde OC, Gunnes G, Alnæs GI, Solvang HK, Lüders T, Kristensen VN, Børresen-Dale AL, Lingaas F. Canine Mammary Tumours Are Affected by Frequent Copy Number Aberrations, including Amplification of MYC and Loss of PTEN. PLoS One. 2015 May 8;10(5):e0126371.
Cantley LC. The Phosphoinositide 3-kinase PathwayScience. 2002 May 31;296(5573):1655-7.
McDonald JT, Kritharis A, Beheshti A, Pilichowska M, Burgess K, Ricks-Santi L, McNiel E, London CA, Ravi D, Evens AM. Comparative oncology DNA sequencing of canine T cell lymphoma via human hotspot panel. Oncotarget. 2018 Apr 27; 9(32):22693-22702.
Sansal I, Sellers WR. The Biology and Clinical Relevance of the PTEN Tumor Suppressor Pathway. J Clin Oncol. 2004 Jul 15;22(14):2954-63.
Song MS, Salmena L, Pandolfi PP. The Functions and Regulation of the PTEN Tumour Suppressor. Nat Rev Mol Cell Biol. 2012 Apr 4;13(5):283-96.
Wang, F., Fu, S., Shao, Q., Zhou, Y. B., Zhang, X., Zhang, X., Xue, C., Lin, J. G., Huang, L. X., Zhang, L., Zhang, W. M., & Shao, J. Y. (2013). High EGFR copy number predicts benefits from tyrosine kinase inhibitor treatment for non-small cell lung cancer patients with wild-type EGFR. Journal of translational medicine, 11, 90. https://doi.org/10.1186/1479-5876-11-90
Wang G, Wu M, Maloneyhuss MA, Wojcik J, Durham AC, Mason NJ, Roth DB. Actionable mutations in canine hemangiosarcoma. PLoS One. 2017 Nov 30;12(11):e0188667.