Medical Brief: Sorafenib in Dogs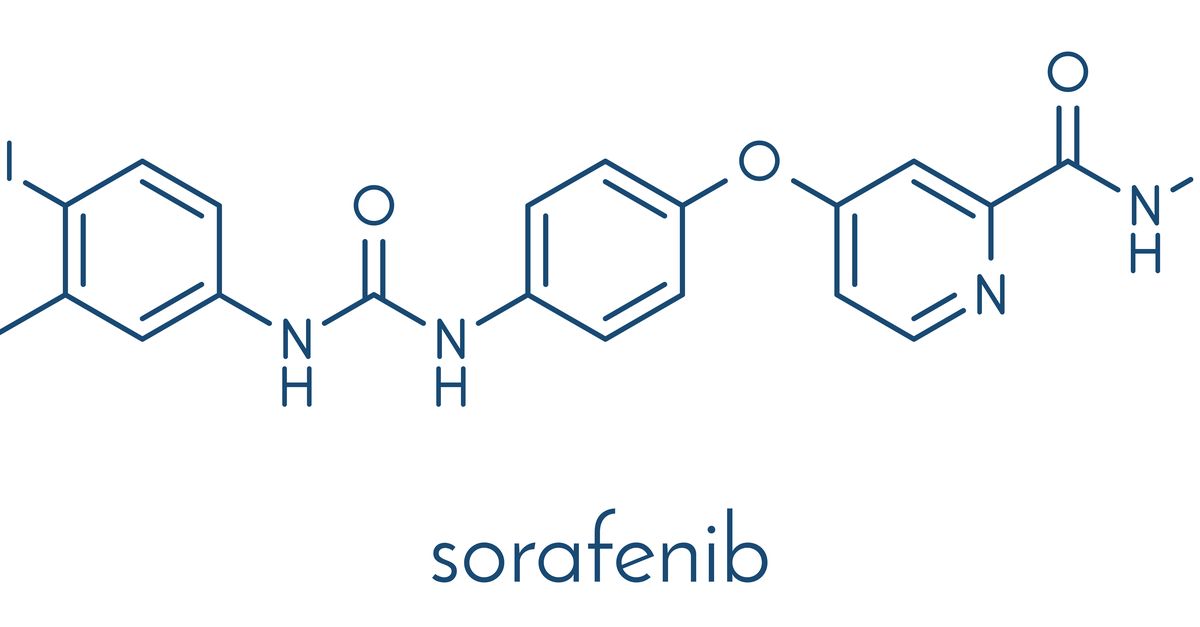 Sorafenib for the Treatment of Unresectable Hepatocellular Carcinoma: Preliminary Toxicity and Activity Data in Dogs. By Laura Marconato, et al(Cancers (Basel). 2020 May 18;12(5):1272. doi: 10.3390/cancers12051272).

Key points in article:
13 dogs with advanced, unresectable hepatocellular carcinoma (HCC) were evaluated in this study. 7 dogs received sorafenib and 6 dogs were treated with metronomic chemotherapy.
In 9 dogs, the HCC was noted as a single large mass with 3 of these 9 dogs having intrahepatic metastases. In the other 4 dogs, multiple hepatic nodules of similar sizes were disseminated in all of the liver lobes.
All of the dogs had stage III or IV disease.
Sorafenib is a multi-kinase inhibitor that targets Raf kinase, vascular endothelial growth factor receptors 1, 2, and 3, and platelet-derived growth factor receptor β with anti-proliferative and anti-angiogenic activities. Sorafenib is FDA-approved for people with advanced or intermediate stage hepatocellular carcinoma.
In addition to HCC, sorafenib showed potent antitumor activity against canine osteosarcoma and hemangiosarcoma cells in vitro.
Sorafenib was given at 5 mg/kg orally every 12 hours and the dose was administered to the nearest 50 mg. There were minimal side effects with three dogs developing grade 1 or 2 cutaneous toxicities and one dog developing a grade 1 diarrhea that resolved with symptomatic therapy.
Quality of life was improved in 6 of the 7 dogs treated with Sorafenib as reported by the owners.
Of the 7 dogs treated with sorafenib, 1 dog had a complete response (CR), 3 dogs had a partial response (PR) and 3 dogs had a stable disease (SD). In the dogs treated with metronomic chemotherapy, 3 dogs had stable disease (SD) and 3 dogs had progressive disease (PD).
Median time to progression (TTP) in dogs treated with sorafenib was 363 days and 27 days in dogs treated with metronomic chemotherapy. Median Overall Survival (OS) time in dogs treated with sorafenib was 361 days while OS in dogs treated with metronomic chemotherapy was 32 days.
The schedule and dosing of sorafenib in this study was found to be safe and tolerable. Dogs with unresectable HCC treated with sorafenib did show an improvement in TTP as compared to dogs treated with metronomic chemotherapy.
Two dogs in the sorafenib treatment arm were exceptional responders (living over 1398 and 1706 days) and these dogs were pretreated with debulking surgery prior to the beginning of systemic therapy, despite the presence of residual local and metastatic disease.
This research by Dr. Marconato and her colleagues strengthen the value of targeted therapies of dogs with cancer. Sorafenib is one of the options facilitated via FidoCure® and we are excited to be able to offer it to the benefit of your patients.